The Staff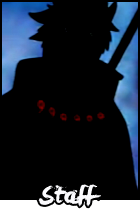 (Owner)
Zero
Mecc
IcyXDragon

(Co-Owner)


(Head Admin)
Envy

(Admins)
Mezashi

(Enforcer)


Ranks
Kages:




(Req: 1.5e+10 Stats; S-Rank Nin; 1e+13 HP)



Leaf (Hokage)
Cloud (Raikage)
Rock (Tsuchikage)
Sand (Kazekage)
Mist (Mizukage)
Rain (Amekage)
Sound (Otokage)
Blood (Ketsukage)


---



Org Leaders:




(Req: 2e+10 Stats; S-Rank Nin; 3e+13 HP)



Akatsuki (Akatsuki Leader)
7SM (7SM Leader)
Root (Root Leader)
Sound Org. (SO Leader)
Police Force (PF Leader)
Taka (Taka Leader)
12 Ninja Guardians(12NG)



FUCK THE OLD THREAD. HOW DOES EVERYOJE FEEL ABOUT THE LAST FEW CHAPTERS OF NARUTO?
Member





Posts

: 119


Join date

: 2013-12-02



I'm not the only one who read 700 and though "Who's that random black chick" am I? Cuz it took me a bit to realize who that was. Also the choji hookup outa nowhere. They took time to address everything. Neji is still dead, Tenten still sux, and Gai is crippled now. Moral of the story: Team Gai Sux cept lee who is still awesome and has a kid from unknown mother.

Also anyone else think A looks like Unckle Ruckus from Boondocks?

I liked it.

Oh and bonus points, Sasuke knocked up Sakura and ditched town which was pretty funny.

_____________________________
This is why we can't have nice things. Nobody wants to listen to a new idea or suggestion. They want the same thing as it's always been. You try to give em a new idea or tell em their concept is wrong and they grab the pitchforks and start a lynch mob.
Member





Posts

: 115


Join date

: 2014-01-25


Location

: New Richmond Ohio



Naruto and Hinata had two kids. He named his son Baruto... How original.  Why is kurenai's son stronger than Konohamaru, when Konohamaru's older. Udon and Moegi look pretty G too. Who knew choji could dick down a black girl lmao. Shit caught me off gaurd and seriously had me confused. Akimichi, Shaniqua is cannon.

Gai isnt crippled, hes just got a broken foot. I wish we could see what skills the new people got, also I hope someone different writes the new naruto story.
Member





Posts

: 165


Join date

: 2013-12-25



I don't think they will continue it on..
_____________________________
I'll kick you in the god damn throat
Junior





Posts

: 37


Join date

: 2014-08-16


Location

: Land of NKV



they are gonna do a mini series in spring about the children but not by kishi but by the guy that wrote blood prison....so...yea?
Junior





Posts

: 25


Join date

: 2014-01-25


Location

: Lehigh, Florida





Similar topics
---
Permissions in this forum:
You
cannot
reply to topics in this forum