The Staff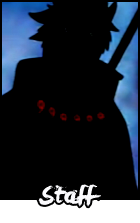 (Owner)
Zero
Mecc
IcyXDragon

(Co-Owner)


(Head Admin)
Envy

(Admins)
Mezashi

(Enforcer)


Ranks
Kages:




(Req: 1.5e+10 Stats; S-Rank Nin; 1e+13 HP)



Leaf (Hokage)
Cloud (Raikage)
Rock (Tsuchikage)
Sand (Kazekage)
Mist (Mizukage)
Rain (Amekage)
Sound (Otokage)
Blood (Ketsukage)


---



Org Leaders:




(Req: 2e+10 Stats; S-Rank Nin; 3e+13 HP)



Akatsuki (Akatsuki Leader)
7SM (7SM Leader)
Root (Root Leader)
Sound Org. (SO Leader)
Police Force (PF Leader)
Taka (Taka Leader)
12 Ninja Guardians(12NG)



 So I'm getting my new laptop either Monday or Tuesday(hopefully monday ofcourse).

Along with this I pre-ordered both FF XIV: A Realm Reborn and Saints Row IV. Since the earliest I'll get to play any of those two is the 23rd, I need some games to pass those 3 weeks.

Only Free to Play [F2P] games please, free Steam games are fine as well. I'm just looking for something with a sense of progression and lvling. Shooter or RPG preferably

Thanks ahead.
_____________________________
Top-Tier Shinobi





Posts

: 573


Join date

: 2012-05-26


Location

: The Netherlands





Similar topics
---
Permissions in this forum:
You
cannot
reply to topics in this forum