The Staff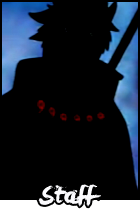 (Owner)
Zero
Mecc
IcyXDragon

(Co-Owner)


(Head Admin)
Envy

(Admins)
Mezashi

(Enforcer)


Ranks
Kages:




(Req: 1.5e+10 Stats; S-Rank Nin; 1e+13 HP)



Leaf (Hokage)
Cloud (Raikage)
Rock (Tsuchikage)
Sand (Kazekage)
Mist (Mizukage)
Rain (Amekage)
Sound (Otokage)
Blood (Ketsukage)


---



Org Leaders:




(Req: 2e+10 Stats; S-Rank Nin; 3e+13 HP)



Akatsuki (Akatsuki Leader)
7SM (7SM Leader)
Root (Root Leader)
Sound Org. (SO Leader)
Police Force (PF Leader)
Taka (Taka Leader)
12 Ninja Guardians(12NG)



So im doing this one again. Sora abused ultimate banned me just for "I always wanted to do this". And there was a huge racial thing going on. Most people were discussing everything. Then a little bit of stuff about not liking a certain a race popped out but I didn't see anyone offended at that point.. But then what made it worse was that he went out of the way to ANNOUNCE stuff like "Black people sux" And "They always get harrased by the cops," No one got truly offended, up til this point. I even saw Nayo telling him to stop but he than continued even though it was clear a majority of the black players got offended. The other gms that were on which was Ciel and Kushina were online. Ciel was disscuss some of the race involved things in La announce and Kushina was making it seem like shes not racist(since Kushina started getting rude and bitching about it and saying I failed then imma just go ahead and say shes racist. Happy Sunshine? ^^). No one muted world for a long period of time either to stop the whole thing in OOC. It's safe to say, NO ONE can say this is wrong and most people know. There were of course a lot of witnesses since around that time the game has 30+ players. Also, hes just an asshole that thinks hes all that. He needs to be taught a lesson and be knocked off his high horse like the owner of the game he thinks he is. As said before he deleted the old thread. Which was of a COMPLAINT made by me where around 4-5 people commented and shared there thoughts and feelings. He had no reason to do so and just abused even more. I believe he should be either demoted or fired. I will even find a new host for you if you like, I promise you that. Please consider it.

And also feel free to leave feedback on how you feel about the situation.

Thank you~
Last edited by RenaxRyuugu on Mon Aug 27, 2012 11:27 pm; edited 1 time in total
Junior





Posts

: 46


Join date

: 2012-08-27


Location

: In the pokeverse



If i was on and could see people getting offended i would have told them to stfu or take it to say or gm occ or w/e '-' Also don't delete complaints just because they involve you -__- *looks at sora*
Developer/Iconner





Posts

: 515


Join date

: 2012-06-05


Location

: Maryland



Meh, The rules have never been enforced and it's very rare apart from a few exceptions of staff actually enforcing the rules. Most the staff got hired because they are either meccs friend or zero's i don't think anyone was really hired for being good GMs apart from the 1 or 2.

But i agree that racist shiz shouldn't go on much, At the same time i disagree with making a big fuss over it. White people was offended too at points, racism is just a cause for fights/wars/arguments.
_____________________________
Newbie





Posts

: 8


Join date

: 2012-06-22


Location

: Birmingham



Mfarley211 wrote:lol , okay groupies~ i wont get banned first off, second off you guys are only saying this because she asked you to
Regardless if she asked us to or not,
we WILL use this to voice our opinion
on the matter. I don't care if you get banned or not, but a "joke" can go too far. Booting someone as a "joke" is even abuse to me, but if the joke is mutual, it's all fun and games I guess. However, a Ban is pushing it. People don't play this game for racist "jokes". It's only funny if it mutual as I previously said. When someone is
SERIOUSLY offended
, you stop, no exceptions.
Sora's only reply is "You guys can't take a joke..." to that I say Jokes can go too far. If one person is seriously offended, it stops being a joke.
Newbie





Posts

: 2


Join date

: 2012-08-27



.-. that awkward moment everything she said is basically true more or less but yeah lol kinda did go to far i guess,but looking back at it i kinda was annoyed at it although i also was involved. other people also were upset and it did go farther than it needed to but honestly we have done worse... but yeah....SORA FCKA YOU o.o
_____________________________
Submit To The Darkness
Guest is going out with Ciel.
Member





Posts

: 424


Join date

: 2012-05-26


Location

: Tampa,Florida



Awkward when I didn't meddle into this thing and even asked for a world mute on MULTIPLE occasions, but people didn't find it needed. Now an innocent player is banned and half of the server got seriously offended.

P.S

SERVER FAILLLLLLLL ~
_____________________________

Top-Tier Shinobi





Posts

: 573


Join date

: 2012-05-26


Location

: The Netherlands



Vote Hussein Oda for Enforcer.

He's not racist. He's just an ass.


Member





Posts

: 105


Join date

: 2012-06-14





Similar topics
---
Permissions in this forum:
You
cannot
reply to topics in this forum