The Staff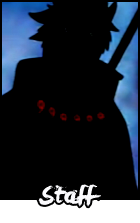 (Owner)
Zero
Mecc
IcyXDragon

(Co-Owner)


(Head Admin)
Envy

(Admins)
Mezashi

(Enforcer)


Ranks
Kages:




(Req: 1.5e+10 Stats; S-Rank Nin; 1e+13 HP)



Leaf (Hokage)
Cloud (Raikage)
Rock (Tsuchikage)
Sand (Kazekage)
Mist (Mizukage)
Rain (Amekage)
Sound (Otokage)
Blood (Ketsukage)


---



Org Leaders:




(Req: 2e+10 Stats; S-Rank Nin; 3e+13 HP)



Akatsuki (Akatsuki Leader)
7SM (7SM Leader)
Root (Root Leader)
Sound Org. (SO Leader)
Police Force (PF Leader)
Taka (Taka Leader)
12 Ninja Guardians(12NG)



Terry casually walks down the street, on his way home from work, checking his cellphone for alerts from his girlfriend, the legendary Maya's butler. She was such a sweet woman with glistering blue eyes and her smile put a spark into his soul. Today was the day he was going to propose to his feminine friend. He arrived at his small apartment building where he currently facilitated at. He opens the refridgerator and gets a cola, cracks it, and drinks it. He was getting slightly nervous that she would never reply. He sat and sunk into his leather couch and pressed the power button on the TV remote, and the televsion turned on. Scrolling through the channels to pass the time, when he went all the way around the channels and finally decided on a news channel. To his suprise, he sees a very fimiliar vehicle totaled, smoking in a ditch and on its roof, in a news report. He notices the vehicle to be Maya's Butler. He clenches his fist at the thought of his woman to be in critical condition. He throws on a coat quickly, and runs out the door. From the news report, he notices the street, next to Maya's mansion. Running and running, he continues onto his journey to the sight of the accident. Eventually he arrives at the scene of the accident, and to his amazement, the only one who remains are the police. He asks the authorities what happened to the woman in the accident, and they reply that she was taken to the ER in an ambulence as procedure. They then offered him a ride to the hospital. He steps out of the police vehicle and rushes through the ER doors. The woman at the reception desk asks him what she can help him with, and he tells her that he is looking for Maya's Butler. The woman tells him the room number, and after going through a slight security check (America), he continues down the dimmly lit hallways, till he finds her room. He walks into the room and she is laying on one of the movable hospital beds. She slowly turns her head towards him and he deep blue eyes have a warm welcoming effect. She smiles slightly and he walks over to the bed. He runs his fingers through her hair and lightly speaks, "Are you alright?" She coarsly speaks, "Yeah just a little shaken at the moment." He looks over her and sees a few blood trails rolling down her skin. He knees beside her bed and a few tears roll down his face and manages to speak, "You scared me.." in a muffled voice. She rolls onto her side and kisses him on the forehead. She then follows up by saying, "I'm Sorry I concerned you so much...what will I do to ever make it up to you?" He looks at her and smiles. He speaks up, "I have an idea.." As he is already in a kneeling poition, he adjust his knee into the proper proposal position. He pulls a small box out his back pocket and opens it up from the front. A ring is displayed on the inside with a small diamond on the top. She blushes and realizes what is going on, and sits up in her hospital bed. He then asks, "Maya's Butler, will you marry me?". A few tears run down her face, and she takes a deep breath, smiles and out comes a very accepting "Yes". His face gets a wide smile and he leans forward and kisses his new befound fiancée. He takes her soft hands and slides the ring on the fourth finger (ring).
Hope You Enjoyed This <3 You Maya's Butler.
Junior





Posts

: 25


Join date

: 2012-07-02


Location

: In Your Closet



Member





Posts

: 51


Join date

: 2012-06-12


Location

: New York



love u 2 terry but D: amy has my heart and i need to get hers back~
_____________________________
Submit To The Darkness
[You must be registered and logged in to see this image.]
[You must be registered and logged in to see this image.]
Guest is going out with Ciel.
Member





Posts

: 424


Join date

: 2012-05-26


Location

: Tampa,Florida



Ciel wrote:love u 2 terry but D: amy has my heart and i need to get hers back~
I feel ya bro, I just like to write...Go Get her!
Junior





Posts

: 25


Join date

: 2012-07-02


Location

: In Your Closet





Similar topics
---
Permissions in this forum:
You
cannot
reply to topics in this forum