The Staff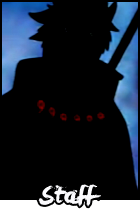 (Owner)
Zero
Mecc
IcyXDragon

(Co-Owner)


(Head Admin)
Envy

(Admins)
Mezashi

(Enforcer)


Ranks
Kages:




(Req: 1.5e+10 Stats; S-Rank Nin; 1e+13 HP)



Leaf (Hokage)
Cloud (Raikage)
Rock (Tsuchikage)
Sand (Kazekage)
Mist (Mizukage)
Rain (Amekage)
Sound (Otokage)
Blood (Ketsukage)


---



Org Leaders:




(Req: 2e+10 Stats; S-Rank Nin; 3e+13 HP)



Akatsuki (Akatsuki Leader)
7SM (7SM Leader)
Root (Root Leader)
Sound Org. (SO Leader)
Police Force (PF Leader)
Taka (Taka Leader)
12 Ninja Guardians(12NG)



Logging into the outside acad space then walking one tile up and one tile down.
Hitting meditate every few min just to see if you are indeed meditating.
Seeing john lose a wipe fight.
Asking the owner a question and getting ignored.
"Hey man come trade eyes with me


"
Hoping to be on thunder's team in a CTF.
Wishing teddy would turn off his fucking caps lock.
Rushing back to your computer every 45 mins.
Hating Mew.
Facing up instead of down because you're a cool kid.
#JustNKVThings

_____________________________
Depression is my aesthetic.
Member





Posts

: 304


Join date

: 2013-04-07


Location

: Atlanta, GA



Member





Posts

: 73


Join date

: 2012-07-26


Location

: Canada, Quebec



_____________________________
[You must be registered and logged in to see this link.]
sick of seeing that nigger's face in the thumbnail but I think you get the point (figure of speech I know you don't). there are more parallels between you and the africans than you and the americans. you just happen to live here.
Two-Faced Sam "I forget who I am" Poohill (Permafrost) wrote:I just don't want to have this conversation with you.
Tenori Taiga wrote:I mean I clearly stated ''throughout NKV's downtime'' - whereas 99,99% of my postcount was gained while NKV was being played
Sosuke Aizen wrote:Edit: You keep ripping on Aizen and Byakuya, both of whom are not me but merely a name to my user so I was not offended.
The Amazing Mr. Reality. The more you talk, the more he exposes how stupid you are. Real American.
Categorical wins over: Sam, Bya, Icy, Ginji, John
Small-scale wins over: Teddy, Fire, Old Man
Losses in any way, shape or form:
NONE.
Member





Posts

: 81


Join date

: 2014-02-22



Watching a young uchiha fledgling cry because I took his eyes

_____________________________
You have to experience loss to move forward in life. I missed out on my destiny once, see greatness through my eyes and sleep child.
Junior





Posts

: 46


Join date

: 2013-12-20



One word..........Waterfall

Member





Posts

: 119


Join date

: 2013-12-02



Watching new people pick clans that don't work together and they argue with you because yes.
Junior





Posts

: 31


Join date

: 2014-03-18


Location

: Belleville



Laughing at exo yell #Youcan'tbullyme

_____________________________
Death is needed to provide order in the world! For death is an aspect of life , for if there was no death, there would be no reason to live!
Immortality isn't a gift it's a curse
Member





Posts

: 52


Join date

: 2014-01-04


Location

: Memphis, Tennessee



Member





Posts

: 104


Join date

: 2012-08-27



listening to people bitch about donations
_____________________________
I'll kick you in the god damn throat
Junior





Posts

: 37


Join date

: 2014-08-16


Location

: Land of NKV




---
Permissions in this forum:
You
cannot
reply to topics in this forum