The Staff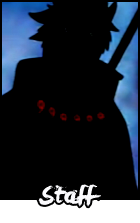 (Owner)
Zero
Mecc
IcyXDragon

(Co-Owner)


(Head Admin)
Envy

(Admins)
Mezashi

(Enforcer)


Ranks
Kages:




(Req: 1.5e+10 Stats; S-Rank Nin; 1e+13 HP)



Leaf (Hokage)
Cloud (Raikage)
Rock (Tsuchikage)
Sand (Kazekage)
Mist (Mizukage)
Rain (Amekage)
Sound (Otokage)
Blood (Ketsukage)


---



Org Leaders:




(Req: 2e+10 Stats; S-Rank Nin; 3e+13 HP)



Akatsuki (Akatsuki Leader)
7SM (7SM Leader)
Root (Root Leader)
Sound Org. (SO Leader)
Police Force (PF Leader)
Taka (Taka Leader)
12 Ninja Guardians(12NG)



MY Name is John or God Of All Uchiha. And if you didn't know I am the only uchiha in existence to have slaughtered an entire platoon of Nkv Veterans in one jutsu which made them give me best cyber top ever not better than rose but ya kno. Anyway I hope you accept me.

_____________________________
I will destroy everything you love not only with my dick but with my eyes.
Junior





Posts

: 39


Join date

: 2013-12-20




---
Permissions in this forum:
You
cannot
reply to topics in this forum