The Staff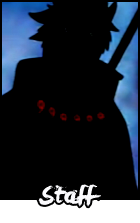 (Owner)
Zero
Mecc
IcyXDragon

(Co-Owner)


(Head Admin)
Envy

(Admins)
Mezashi

(Enforcer)


Ranks
Kages:




(Req: 1.5e+10 Stats; S-Rank Nin; 1e+13 HP)



Leaf (Hokage)
Cloud (Raikage)
Rock (Tsuchikage)
Sand (Kazekage)
Mist (Mizukage)
Rain (Amekage)
Sound (Otokage)
Blood (Ketsukage)


---



Org Leaders:




(Req: 2e+10 Stats; S-Rank Nin; 3e+13 HP)



Akatsuki (Akatsuki Leader)
7SM (7SM Leader)
Root (Root Leader)
Sound Org. (SO Leader)
Police Force (PF Leader)
Taka (Taka Leader)
12 Ninja Guardians(12NG)



After saying "  (Cloud)-(Hyuuga/Uchiha)--Rawlz: If eternal likes men, let god strike me down 100fold  ", he spam killed himself with tags for about a hour and 10 minutes (From 3:35pm till 4:45pm GMT). 
I didn't do anything to him and even if I did it doesn't legitimize spamming the entire server for that long and eventually causing it to crash.
This entire thing can be confirmed by atleast Ezael, Permafrost, Angelus, Hussein Oda, Kidd, Ex0, KentaNanaya, and Giotto.
Plus we have a short gif, curtsey of Perma;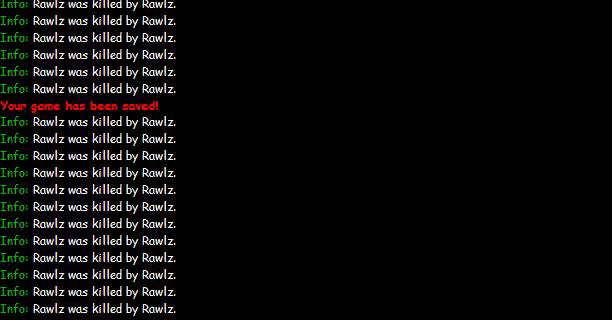 Once again, PLEASE MOAB HIM.
_____________________________
"A world without pain, loss, betrayal, hate, death, loneliness?... Impossible."
Member





Posts

: 313


Join date

: 2012-07-29


Location

: Calgary



Don't blame me for the result of a poorly executed sentence... I didn't know it would be such a strong statement that my life would be in jeopardy.
Newbie





Posts

: 1


Join date

: 2014-09-14





Similar topics
---
Permissions in this forum:
You
cannot
reply to topics in this forum