The Staff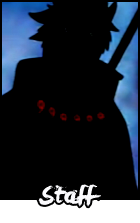 (Owner)
Zero
Mecc
IcyXDragon

(Co-Owner)


(Head Admin)
Envy

(Admins)
Mezashi

(Enforcer)


Ranks
Kages:




(Req: 1.5e+10 Stats; S-Rank Nin; 1e+13 HP)



Leaf (Hokage)
Cloud (Raikage)
Rock (Tsuchikage)
Sand (Kazekage)
Mist (Mizukage)
Rain (Amekage)
Sound (Otokage)
Blood (Ketsukage)


---



Org Leaders:




(Req: 2e+10 Stats; S-Rank Nin; 3e+13 HP)



Akatsuki (Akatsuki Leader)
7SM (7SM Leader)
Root (Root Leader)
Sound Org. (SO Leader)
Police Force (PF Leader)
Taka (Taka Leader)
12 Ninja Guardians(12NG)



I don't know if you all noticed or paid attention to it but The Sage of The Six Paths wasn't the only child that his mother gave birth to, he had a brother, a twin actually. And also apparently they both fought the ten tails but that doesn't really have to do with anything.

Their Mother apparently had Byakugan along with Rinnegan and  her children were born with powerful chakra and the ability to manipulate it, Hagoromo(The Sage of the Six Paths) was obviously given Rinnegan but nothing is really said about his brother.

But if you look at how things are in the Naruto world (Byakugan being pretty prevalent as much as the Sharingan used to be) it's pretty safe to assume that his brother got the Byakugan and that's how it was passed down since there would be no other way for people to be born with it unless the Mother had more kids.

Whether this is news to you or not it was just something on my mind, "Why introduce the brother after all this time yet have no background info on him stated besides that he was there". Also makes you wonder what ever happened to him.

Oh this would also make Hyuugas, Uchihas, and Uzumakis related.
Developer/Iconner





Posts

: 515


Join date

: 2012-06-05


Location

: Maryland



Yea, it's pretty stupid that they introduced The brother of the sage of the 6 paths at almost the end of the series so I really don't know but they will probably explain it on the chapters later, And I think that there will be something related to the tree and the brother and something having that Madara absorbed the tree related to the brother.
Member





Posts

: 278


Join date

: 2013-08-13



I also dislike the fact that the Sage was presumed an only child all the way up to this point and then Kishimoto smacks us in the face with a surprise twin. Other than that, Icy's theory may be spot on/close enough and would fill the holes in his brother's history (a tiny bit).
_____________________________
[You must be registered and logged in to see this image.]
"
If it is for the sake of my pride, there is nothing I won't destroy."
Member





Posts

: 373


Join date

: 2013-08-23


Location

: Soul Society




---
Permissions in this forum:
You
cannot
reply to topics in this forum