The Staff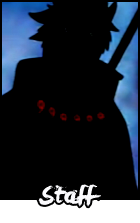 (Owner)
Zero
Mecc
IcyXDragon

(Co-Owner)


(Head Admin)
Envy

(Admins)
Mezashi

(Enforcer)


Ranks
Kages:




(Req: 1.5e+10 Stats; S-Rank Nin; 1e+13 HP)



Leaf (Hokage)
Cloud (Raikage)
Rock (Tsuchikage)
Sand (Kazekage)
Mist (Mizukage)
Rain (Amekage)
Sound (Otokage)
Blood (Ketsukage)


---



Org Leaders:




(Req: 2e+10 Stats; S-Rank Nin; 3e+13 HP)



Akatsuki (Akatsuki Leader)
7SM (7SM Leader)
Root (Root Leader)
Sound Org. (SO Leader)
Police Force (PF Leader)
Taka (Taka Leader)
12 Ninja Guardians(12NG)



Not many people will know what it is(i think) if you don't know i suggest you check it out it's pretty good.

Yeah anyway, what do you guys think about the game and the endings.

I thought the powers were really good and not as basic as the previous ones which were Electricity or Lightning...Honestly not sure which it is, Then there is ice and i think the other was called hellfire. but the newer ones were thought off pretty well. Video was based off an MMO from the game. Neon was based of...well neon, Smoke was really fun to play with and concrete was pretty shitty imo.

As for the endings i found the good ending to be really obvious but the evil ending surprised me a lot. The way he killed hundreds of people, watch his brother die and only to be rejected by the person he was trying to save only to kill them....probably my favorite game ending ever.
Average Shinobi





Posts

: 318


Join date

: 2013-03-18



Well i just got done watching uberhaxornova's evil walkthrough of the game on youtube the other day.

yeah i gotta agree. i like the evil ending more. Delsin saved that old hag's life and she spits in his face cause he killed rather than subduing the DUP and activists and sht. I'd be pissed like Delsin as well. she got what she deserved lmao. I honestly like this game better. neon is a little overrated but i like it. i gotta go with video as my favorite power. It's melee is op and projectiles are fast af not to mention it's flight and invisibility upgrades.

Overall the game is pretty sick. good graphics, free roam, story line is a little too short for me but i still like it.
Junior





Posts

: 24


Join date

: 2013-12-04


Location

: MD





Similar topics
---
Permissions in this forum:
You
cannot
reply to topics in this forum