The Staff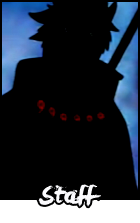 (Owner)
Zero
Mecc
IcyXDragon

(Co-Owner)


(Head Admin)
Envy

(Admins)
Mezashi

(Enforcer)


Ranks
Kages:




(Req: 1.5e+10 Stats; S-Rank Nin; 1e+13 HP)



Leaf (Hokage)
Cloud (Raikage)
Rock (Tsuchikage)
Sand (Kazekage)
Mist (Mizukage)
Rain (Amekage)
Sound (Otokage)
Blood (Ketsukage)


---



Org Leaders:




(Req: 2e+10 Stats; S-Rank Nin; 3e+13 HP)



Akatsuki (Akatsuki Leader)
7SM (7SM Leader)
Root (Root Leader)
Sound Org. (SO Leader)
Police Force (PF Leader)
Taka (Taka Leader)
12 Ninja Guardians(12NG)



Who would love to see a cannon OVA series about the Akatsuki? Just interactions between them and maybe some flashbacks to the Akatsuki's War in the Rain Village days. Maybe like the episode with Rock Lee and his Ninja Pals but more mature or the normal Naruto Format.
Link to Rock Lee and his Ninja Pals Akatsuki Episode:
[You must be registered and logged in to see this link.]
Member





Posts

: 72


Join date

: 2014-02-09



They're already doing something for the Akatsuki in Storm Revolution.

---
Permissions in this forum:
You
cannot
reply to topics in this forum