The Staff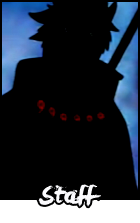 (Owner)
Zero
Mecc
IcyXDragon

(Co-Owner)


(Head Admin)
Envy

(Admins)
Mezashi

(Enforcer)


Ranks
Kages:




(Req: 1.5e+10 Stats; S-Rank Nin; 1e+13 HP)



Leaf (Hokage)
Cloud (Raikage)
Rock (Tsuchikage)
Sand (Kazekage)
Mist (Mizukage)
Rain (Amekage)
Sound (Otokage)
Blood (Ketsukage)


---



Org Leaders:




(Req: 2e+10 Stats; S-Rank Nin; 3e+13 HP)



Akatsuki (Akatsuki Leader)
7SM (7SM Leader)
Root (Root Leader)
Sound Org. (SO Leader)
Police Force (PF Leader)
Taka (Taka Leader)
12 Ninja Guardians(12NG)



The number of votes will determine where each person gets placed.
You can vote for each person once.
Vote for the people you like or who you think are the most helpful.

_____________________________
I'd rather be a potato then a pumpkin.
Member





Posts

: 276


Join date

: 2013-04-07


Location

: Atlanta, GA



Vote for Byakuran. He answers all the noob questions, calls me at nights for afk check, cares for me when Im injured. I didnt get to know the others from their good side yet.
Member





Posts

: 68


Join date

: 2014-02-22



Vote me for most noob friendly.

I made the rank guide and give out sharingans to noobs. Why I'm not on this poll is a mystery.

_____________________________
This is why we can't have nice things. Nobody wants to listen to a new idea or suggestion. They want the same thing as it's always been. You try to give em a new idea or tell em their concept is wrong and they grab the pitchforks and start a lynch mob.
Member





Posts

: 115


Join date

: 2014-01-25


Location

: New Richmond Ohio



Member





Posts

: 165


Join date

: 2013-12-25



This is basically a 9 month early nkv award vote o.o j/s
Average Shinobi





Posts

: 318


Join date

: 2013-03-18





Similar topics
---
Permissions in this forum:
You
cannot
reply to topics in this forum