The Staff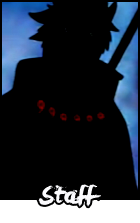 (Owner)
Zero
Mecc
IcyXDragon

(Co-Owner)


(Head Admin)
Envy

(Admins)
Mezashi

(Enforcer)


Ranks
Kages:




(Req: 1.5e+10 Stats; S-Rank Nin; 1e+13 HP)



Leaf (Hokage)
Cloud (Raikage)
Rock (Tsuchikage)
Sand (Kazekage)
Mist (Mizukage)
Rain (Amekage)
Sound (Otokage)
Blood (Ketsukage)


---



Org Leaders:




(Req: 2e+10 Stats; S-Rank Nin; 3e+13 HP)



Akatsuki (Akatsuki Leader)
7SM (7SM Leader)
Root (Root Leader)
Sound Org. (SO Leader)
Police Force (PF Leader)
Taka (Taka Leader)
12 Ninja Guardians(12NG)




Anyone bought any discount games yet?


So far I've got:


Skyrim: Legendary Edition
Rising Storm/Red Orchestra 2
Left 4 Dead 2


The only service with updates on their discounts are Steam, so check that out every 8 and 24 hours (mini updates and daily updates)


Also, I've been selected for the F.E.A.R Online closed beta. It's hosted by Area Games (which makes me cautious) but I'll try it nevertheless. Seeing Alma is always a delight. 




_____________________________
Top-Tier Shinobi





Posts

: 573


Join date

: 2012-05-26


Location

: The Netherlands





Similar topics
---
Permissions in this forum:
You
cannot
reply to topics in this forum