The Staff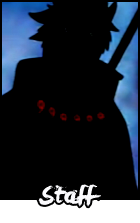 (Owner)
Zero
Mecc
IcyXDragon

(Co-Owner)


(Head Admin)
Envy

(Admins)
Mezashi

(Enforcer)


Ranks
Kages:




(Req: 1.5e+10 Stats; S-Rank Nin; 1e+13 HP)



Leaf (Hokage)
Cloud (Raikage)
Rock (Tsuchikage)
Sand (Kazekage)
Mist (Mizukage)
Rain (Amekage)
Sound (Otokage)
Blood (Ketsukage)


---



Org Leaders:




(Req: 2e+10 Stats; S-Rank Nin; 3e+13 HP)



Akatsuki (Akatsuki Leader)
7SM (7SM Leader)
Root (Root Leader)
Sound Org. (SO Leader)
Police Force (PF Leader)
Taka (Taka Leader)
12 Ninja Guardians(12NG)



I have diverted from my vision of making a simple Bleach Game, I want to make a Bleach
sidescroller
. Yes,
Sidescroller
, you don't have dyslexia, you indeed read
sidescroller
. Anyway, I've already started spriting some icons: Uryuu (F), Byakuya (F), Soul Society Aizen (NF). By Spriting I mean cutting the states from a sprite sheet and pasting them into Dream Seeker. I wanted to finish the spriting first and then get on to the coding but I'm new to making a Sidescroller so I wanted somebody's help... (needless to say you need to know your stuff about Bleach). Iconners aren't necessary, just coders and if you think your capable of putting together a map for the sidescroller (I have the sprites for them) just reply.
For Version 1.0 I wanted Healers (To heal and revive teammates) as well as adding characters ARC by ARC. (Fillers included
IF POSSIBLE
)
Version 1.0 Good:
1. Ichigo Kurosaki
2. Orihime Inoue (Healer)
3. Uryuu Ishida
4. Yasutora Sado
5. Rukia Kuchiki
6. Renji Abarai
7. Byakuya Kuchiki
8. Ganju Shiba
9. Kuukaku Shiba
10. Toshiro Hitsugaya (Maybe)
11. Rangiku Matsumoto (Maybe)
Bad:
1. Sawatari
2. Ho and Ban
3. Ugaki
4. Mabashi
5. Yoshino Soma (Healer)
6. Ryo Utagawa
7. Go Koga
8. Yoshi
9. Cain? (Maybe)
If you're wondering why you don't see some characters here from the first arc up to the Bount Arc it's because of them either not showing much skill during that time or them being a LOCKED Character later on. Locked Characters can only be gained by winning tournaments.
I won't be adding Locked Characters however until the Fake Karakura Town Arc until everybody wrecks shit up.
Locked Chars:
1. Genryuusai Yamamoto
2. Zaraki Kenpachi
3. Yachiru Unohana
4. Shunsui Kyoraku?5. Jushiro Ukitake?
6. Mayuri Kurotsuchi
7. Soul Society Arc Aizen
8. Fake Karakura Town Arc Aizen
9. Gin Ichimaru
10. Kaname Tousen
11. Sajin Komamura
12. Tier Harribel
13. Barragan Luisenbarn
14. Coyote Starrk
15. Yammy Llargo
More to come...
Characters that are Locked are characters that are usually too strong for normal players to choose them and can easily overwhelm 2,3+ at a time. Some Locks may be JUST above Normal Character class (
Shunsui?
Jushiro?
Tier)
Thanks for reading, PLEASE I need help to sprite some characters. If you're reading this I can't find
ANY
sprites for the Bounts so can you PLEASE check for me so I can figure out what to do or you can suggest me something, thanks

Member





Posts

: 373


Join date

: 2013-08-23


Location

: Soul Society



I can't code but idm helping you find a phew characters to throw into the game
Average Shinobi





Posts

: 318


Join date

: 2013-03-18



Many thanks

After you find a few characters just tell me the ones you found so I can see if I have them already or not
Member





Posts

: 373


Join date

: 2013-08-23


Location

: Soul Society





Similar topics
---
Permissions in this forum:
You
cannot
reply to topics in this forum