The Staff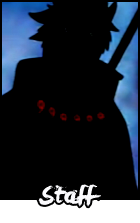 (Owner)
Zero
Mecc
IcyXDragon

(Co-Owner)


(Head Admin)
Envy

(Admins)
Mezashi

(Enforcer)


Ranks
Kages:




(Req: 1.5e+10 Stats; S-Rank Nin; 1e+13 HP)



Leaf (Hokage)
Cloud (Raikage)
Rock (Tsuchikage)
Sand (Kazekage)
Mist (Mizukage)
Rain (Amekage)
Sound (Otokage)
Blood (Ketsukage)


---



Org Leaders:




(Req: 2e+10 Stats; S-Rank Nin; 3e+13 HP)



Akatsuki (Akatsuki Leader)
7SM (7SM Leader)
Root (Root Leader)
Sound Org. (SO Leader)
Police Force (PF Leader)
Taka (Taka Leader)
12 Ninja Guardians(12NG)



As the title says, I'm seeking help. Help for making a Bleach game that is (Sorry for advertising here..)
I'm especially looking for an iconner, I would've asked my brother but he knows squat about Bleach ( He doesn't want to watch it -.-..). If you're a coder that's fine too since I'm going to be crazy busy this week due to exams but I really need an iconner.
Also, I'd like a BYOND member's help too.. So they can put the game's hub (If the game's production gets so far) on their page so it will be listed in BYOND.
I plan on making the icons naruto-based, 32x32 sized icons because Bleach bases are small and I wanna make 'em bigger so I hope the Naruto-based icons are okay with you iconners reading this.
If you can help, just comment below it'll mean alot

Member





Posts

: 373


Join date

: 2013-08-23


Location

: Soul Society




Mehh, my own idea was to make a tribute to what started many people's anime addiction by making a game from scratch.


Ofcourse talking about Dragon Ball Z. Having said that; I'm a programmer so I don't really work on the visual aspect of things.

_____________________________
Top-Tier Shinobi





Posts

: 573


Join date

: 2012-05-26


Location

: The Netherlands





Similar topics
---
Permissions in this forum:
You
cannot
reply to topics in this forum