The Staff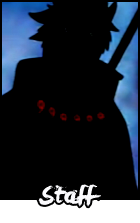 (Owner)
Zero
Mecc
IcyXDragon

(Co-Owner)


(Head Admin)
Envy

(Admins)
Mezashi

(Enforcer)


Ranks
Kages:




(Req: 1.5e+10 Stats; S-Rank Nin; 1e+13 HP)



Leaf (Hokage)
Cloud (Raikage)
Rock (Tsuchikage)
Sand (Kazekage)
Mist (Mizukage)
Rain (Amekage)
Sound (Otokage)
Blood (Ketsukage)


---



Org Leaders:




(Req: 2e+10 Stats; S-Rank Nin; 3e+13 HP)



Akatsuki (Akatsuki Leader)
7SM (7SM Leader)
Root (Root Leader)
Sound Org. (SO Leader)
Police Force (PF Leader)
Taka (Taka Leader)
12 Ninja Guardians(12NG)



So, I'm starting this IT study in college and I ''require'' a proper laptop. Since I'm poor AF atm I'm getting a student loan, which let's me get a new desktop while I'm at it.

Won't get into the laptop too much, just making sure it's good enough to run Final Fantasy XIV at minimal settings so I can play it on breaks,in the train,etc etc.
Now, the Desktop I may or may not be getting;
Processor:
AMD FX-8350 8-core 8x4.0GHz AM3+ 16MB cache 125 watt
Motherboard:
ASROCK 970 Extreme3 AM3 ATX Gamer
RAM:
16GB DDR3 (2x8GB) PC3-12800 1600Mhz CORSAIR Vengeance
Videocard:
2x Saphire ATI Radeon HD 7870 Ghz OC Edition 2048MB
HDD:
Toshiba 2TB SATA3 DT01ACA200 7200 64mb
SSD:
Sandisk 256GB SATAlll UltraPlus NB
Coolor:
GELID Transquillo Rev.2 cpu coolor
Powersource:
750 watt modulair Combat Power super silent 140mm fan powersource
I will be using this setup with three 22" monitors in a 3x1 landscape setup. Great for MMOs, better for shooters.
My main games will be Final Fantasy XIV, GTA V,Perhaps Elder Scrolls Online, and certainly Phantasy Star Online 2
_____________________________
Top-Tier Shinobi





Posts

: 573


Join date

: 2012-05-26


Location

: The Netherlands





Similar topics
---
Permissions in this forum:
You
cannot
reply to topics in this forum