The Staff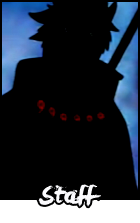 (Owner)
Zero
Mecc
IcyXDragon

(Co-Owner)


(Head Admin)
Envy

(Admins)
Mezashi

(Enforcer)


Ranks
Kages:




(Req: 1.5e+10 Stats; S-Rank Nin; 1e+13 HP)



Leaf (Hokage)
Cloud (Raikage)
Rock (Tsuchikage)
Sand (Kazekage)
Mist (Mizukage)
Rain (Amekage)
Sound (Otokage)
Blood (Ketsukage)


---



Org Leaders:




(Req: 2e+10 Stats; S-Rank Nin; 3e+13 HP)



Akatsuki (Akatsuki Leader)
7SM (7SM Leader)
Root (Root Leader)
Sound Org. (SO Leader)
Police Force (PF Leader)
Taka (Taka Leader)
12 Ninja Guardians(12NG)



What up sonnn 
Microsoft wrote:
An internet connection will not be required to play offline xbox one games
after a one-time system set-up with a new xbox one, you can play any disc based game without ever connecting online again. There is no 24 hour connection requirement and you can take your xbox one anywhere you want and play your games, just like on xbox360

Trade-in, lend, resell, gift, and rent disc based games just like you do today
There will be no limitations to using and sharing games, it will work just as it does today on Xbox 360
Admin





Posts

: 168


Join date

: 2012-05-22


Location

: Philadelphia



Oh is it Opposite Day? 

Junior





Posts

: 30


Join date

: 2012-07-03


Location

: London



Unfortunately for you mez, it's still PS4 > Xbox 1
Just because of the sheer fact that PS4 didn't even have any intention of fucking over consumers in the first place, and Xbox 1 had to RETRACT all their new policies or they wouldn't sell worth a damn, even more with PS4 being 100 bucks cheaper.
Note how Microsoft said 2nd-hand restrictions were decided by game developers entirely, and now THEY reverted it. They were covering for their asses by pointing fingers and are trying to undo the damage they've inflicted upon themselves now. I'll be getting an Xbox 1 after all now cause the only real issue I had was the 2nd hand gaming, but I still give Sony props for having the consumer come first FROM THE BEGINNING.
Top-Tier Shinobi





Posts

: 573


Join date

: 2012-05-26


Location

: The Netherlands



Xbox One for the real niggas
Average Shinobi





Posts

: 237


Join date

: 2012-06-15


Location

: Florida



Shut up Fire your blackness is as real as sess' forum pics.
Top-Tier Shinobi





Posts

: 573


Join date

: 2012-05-26


Location

: The Netherlands



Average Shinobi





Posts

: 290


Join date

: 2012-05-13


Location

: Florida



Average Shinobi





Posts

: 318


Join date

: 2013-03-18




---
Permissions in this forum:
You
cannot
reply to topics in this forum