The Staff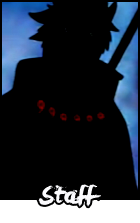 (Owner)
Zero
Mecc
IcyXDragon

(Co-Owner)


(Head Admin)
Envy

(Admins)
Mezashi

(Enforcer)


Ranks
Kages:




(Req: 1.5e+10 Stats; S-Rank Nin; 1e+13 HP)



Leaf (Hokage)
Cloud (Raikage)
Rock (Tsuchikage)
Sand (Kazekage)
Mist (Mizukage)
Rain (Amekage)
Sound (Otokage)
Blood (Ketsukage)


---



Org Leaders:




(Req: 2e+10 Stats; S-Rank Nin; 3e+13 HP)



Akatsuki (Akatsuki Leader)
7SM (7SM Leader)
Root (Root Leader)
Sound Org. (SO Leader)
Police Force (PF Leader)
Taka (Taka Leader)
12 Ninja Guardians(12NG)



So it's very likely I'm going to quit Byond altogether.

Reason why?
-Well it's not very much to my liking honestly.
-Can't really stand certain people on there
-Tolerance level isn't as high as it was before due to stress and stuff.
-So the things they say/do do piss me off. I wouldn't say I'm a "sensitive girl" or a "girl with a stick up her butt and can't loosen up." Cause honestly there is a line somewhere. If I was a dude I would still feel the same way. Really. I would. I am a serious person by nature, but I do know how to loosen up. At this point of time I'm so tense and stressed and stuff it's difficult for me to loosen up.
-Maybe I'm getting a bit old playing something like Byond
-Whole reason for joining in the first place was to communicate and play with my cousins
-Not playing or communicating with my cousins.
-Would've quit eventually due to being too busy. Both my major and minor has an requirement, which would have me be out a lot. I figured that if I go out to certain places a lot I would meet different people and become busy doing stuff for/with them then also be busy studying, working, doing college things. By that time I would probably be busy enough to not even say I'm leaving or really care, the age range is like.. 13-18 ish on Byond isn't it?

So notice the keywords at the top, VERY and LIKELY. As in there's a high chance of it happening. Remember I got a pretty high tolerance for certain things. However, me knowing myself, in the past when I felt like leaving I didn't tell anyone and would just leave without saying anything. As for present me, I don't want to keep quiet about me feeling like leaving, then leave without saying anything. That being said don't be surprised if I suddenly pop up randomly, but also don't expect me to stay long.
Junior





Posts

: 22


Join date

: 2013-03-17



I shall miss you Siiiiiiiiiiiiaaaaaaaaaaaaaaa!!!!!!!!!!!!!!  

Junior





Posts

: 30


Join date

: 2012-07-03


Location

: London



CEEEEEEEELABRATE GOOD TIMES C,MON jk 
siya, sia
o.o get.....sia....siya
irsofunneh
Average Shinobi





Posts

: 318


Join date

: 2013-03-18





Similar topics
---
Permissions in this forum:
You
cannot
reply to topics in this forum