The Staff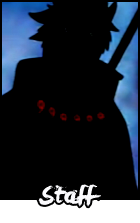 (Owner)
Zero
Mecc
IcyXDragon

(Co-Owner)


(Head Admin)
Envy

(Admins)
Mezashi

(Enforcer)


Ranks
Kages:




(Req: 1.5e+10 Stats; S-Rank Nin; 1e+13 HP)



Leaf (Hokage)
Cloud (Raikage)
Rock (Tsuchikage)
Sand (Kazekage)
Mist (Mizukage)
Rain (Amekage)
Sound (Otokage)
Blood (Ketsukage)


---



Org Leaders:




(Req: 2e+10 Stats; S-Rank Nin; 3e+13 HP)



Akatsuki (Akatsuki Leader)
7SM (7SM Leader)
Root (Root Leader)
Sound Org. (SO Leader)
Police Force (PF Leader)
Taka (Taka Leader)
12 Ninja Guardians(12NG)



I will start the list with:

The Protomen



Favorite Song | Light up the Night


"I've got this burning like my veins are filled with nothing but gasoline.
And with a spark it's going to be the biggest fire they've ever seen."



"Light up the Night!
There is a city that this darkness can't hide.
There are the embers of a fire that's gone out but I can still feel the heat on my skin
This mess were in, well you and I, maybe you and I,
We can still make it right.
We can bring back the Light."
_____________________________
I know, no matter how much dirt and grime I have on me, you will always be there to pick me up and help me from the cloud of dust I've kicked up trying to get my life together.
[You must be registered and logged in to see this image.]
[You must be registered and logged in to see this image.]
Newbie





Posts

: 18


Join date

: 2013-03-09


Location

: Houston, Texas - U.S





Similar topics
---
Permissions in this forum:
You
cannot
reply to topics in this forum