The Staff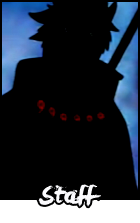 (Owner)
Zero
Mecc
IcyXDragon

(Co-Owner)


(Head Admin)
Envy

(Admins)
Mezashi

(Enforcer)


Ranks
Kages:




(Req: 1.5e+10 Stats; S-Rank Nin; 1e+13 HP)



Leaf (Hokage)
Cloud (Raikage)
Rock (Tsuchikage)
Sand (Kazekage)
Mist (Mizukage)
Rain (Amekage)
Sound (Otokage)
Blood (Ketsukage)


---



Org Leaders:




(Req: 2e+10 Stats; S-Rank Nin; 3e+13 HP)



Akatsuki (Akatsuki Leader)
7SM (7SM Leader)
Root (Root Leader)
Sound Org. (SO Leader)
Police Force (PF Leader)
Taka (Taka Leader)
12 Ninja Guardians(12NG)



I was practically banned for no reason and i still havent been unbanned.
There you go again playing the innocent act... I would put out a list of reasons right here, but i have school so yeah. I'll do it when i get home.
Ok. Tell me what i actually did to be ip banned for this long..
OK. Back from school.

Reason Numero Uno:
You and a few other people constantly start shit in both OOC and Say, (arguements, fights, bickering), and then you in particular go and act innocent about it.

Reason #2:
You and your butt buddy zura are always attempting to "roast" people with you fail ass roasts where you basically repeat the same shit over and over again. I mean yes i roast people to but i don't go on and on with it day in and day out.

Reason #3:
You and the others who were banned annoy a lot of people. Generally most people were happy to find out you 3 were banned because you guys annoy the hell out of them.

Reason #4
This is a less serious reason but still is one. Constantly asking for a tourny when in the rules it says "Don't ask for one, a gm will host when they feel like it"

Reason #5
GM disrespect. Well this one speaks for itself now doesn't it.
So basically gm and player disrespect... i cant be banned because i annoy people.


1. Respect the GMs, decisions they make, and fellow players.
Punishments-Warn/Boot/Mute/Jail/Ban(Decided by an owner or co-owner)


I was never actually warned to stop talking about ppl becuase i was disrespecting them. You just said that it was annoying you. If i was and dont recall... none of the other actions took place before I was banned. Even with all this I was still banned for over 12 hours. That should suffice for 'annoying people'

Plus... u talk about me more then i talk about you so just because youre a gm doesnt mean its ok.
Maybe but when this goes on for days on end then it just gets repetitive and annoying. Also me and other people had told you several times to "stfu" and stop doing shit but an hour or 2 later your back at it, that counts as a warning.
Ok... I understand if you wanna keep me away for a while but ive still been banned for over 12 hours. Can you at least give me like a realistic time that ill be unbanned and not just when u feel like it? Thats fair. 12 hours!



come back on chatbox please o.o


Similar topics
---
Permissions in this forum:
You
cannot
reply to topics in this forum