The Staff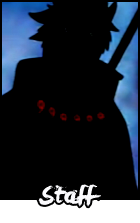 (Owner)
Zero
Mecc
IcyXDragon

(Co-Owner)


(Head Admin)
Envy

(Admins)
Mezashi

(Enforcer)


Ranks
Kages:




(Req: 1.5e+10 Stats; S-Rank Nin; 1e+13 HP)



Leaf (Hokage)
Cloud (Raikage)
Rock (Tsuchikage)
Sand (Kazekage)
Mist (Mizukage)
Rain (Amekage)
Sound (Otokage)
Blood (Ketsukage)


---



Org Leaders:




(Req: 2e+10 Stats; S-Rank Nin; 3e+13 HP)



Akatsuki (Akatsuki Leader)
7SM (7SM Leader)
Root (Root Leader)
Sound Org. (SO Leader)
Police Force (PF Leader)
Taka (Taka Leader)
12 Ninja Guardians(12NG)



Welcome to the Official Nomination Section, here you will be able to nominate staff and players , both new and old, for a position in the Hall of Fame. How do you do this, you ask? Well if you have yet to read the Sticky Thread containing the template, you can find it here:
[You must be registered and logged in to see this link.]
Make sure you read carefully, to make sure your chosen Player/Staff get's their own place in the Hall of Fame! Now, what are you waiting for? Get Nominating!
Please Note:
Be sure to follow the guidelines found on the Sticky. Also, please keep the posts on this thread purely nominations, no random comments, no discussions and no debates allowed.
_____________________________
"Don't look so sad… Minato. I'm… I'm happy. Happy that you loved me. Happy that it's… our son's… birthday. Like… If I try to imagine surviving and the three of us… living together… I can't think of anything… beyond 'I'd be so happy.' If I had any regrets… It would be that I won't see Naruto grow up." -
Kushina Uzumaki.
[You must be registered and logged in to see this image.]
Member





Posts

: 81


Join date

: 2012-06-19


Location

: England



In Game Name: Fang

Player Key: Genus20

Position Held (Eg. Staff/Kage etc.): Akatsuki Member

Reason for Nomination: Paid for the shell like a boss

Additional Comments: LIKE A BOSS

Rating (Out of 10): 10+
_____________________________
Top-Tier Shinobi





Posts

: 573


Join date

: 2012-05-26


Location

: The Netherlands



Sorry but this whole HoF nominations and shit is lame.. None of these players deserve to be in Hall of fame anyway. This is nkv at it's worst prime.
Admin





Posts

: 168


Join date

: 2012-05-22


Location

: Philadelphia





Similar topics
---
Permissions in this forum:
You
cannot
reply to topics in this forum