The Staff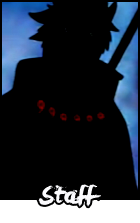 (Owner)
Zero
Mecc
IcyXDragon

(Co-Owner)


(Head Admin)
Envy

(Admins)
Mezashi

(Enforcer)


Ranks
Kages:




(Req: 1.5e+10 Stats; S-Rank Nin; 1e+13 HP)



Leaf (Hokage)
Cloud (Raikage)
Rock (Tsuchikage)
Sand (Kazekage)
Mist (Mizukage)
Rain (Amekage)
Sound (Otokage)
Blood (Ketsukage)


---



Org Leaders:




(Req: 2e+10 Stats; S-Rank Nin; 3e+13 HP)



Akatsuki (Akatsuki Leader)
7SM (7SM Leader)
Root (Root Leader)
Sound Org. (SO Leader)
Police Force (PF Leader)
Taka (Taka Leader)
12 Ninja Guardians(12NG)



Courtney is a noob mod, and IMO a G.I.R.L. until proven otherwise.

She's abusive, and an idiot. A prime example of how girls/G.I.R.L.s get special treatment.

I was muted for saying, and I quote, "Being a girl on BYOND games has its advantages"

While a player posted right after me "Courtney is just another guy pretending to be a girl on BYOND"

I logged out b/c I was wrongfully muted.. Or if I wasn't, the guy under me should have been muted as well, since that was direct staff disrespect.

Apparently, mods aren't supposed to use Announce verb unless it's of uttermost importance.. Or at least I remember Reborn getting in trouble for using Announce..

Just 20 minutes ago Courtney announced "Amy's RP" , "FUCK YOU ALL", "end" which are all useless announcements that have nothing to do with the game.
J/s if a player puts "FUCK YOU ALL" in OOC he/she will most likely be muted [i was muted for saying "ROFL"].. But alas, GIRLs have privileges that others don't.

Well, my complaint is finished, I suggest the noob mod be talked to by higher staff and taught how to use his/her verbs at the right times.. He/she clearly doesn't know what to do with them.



ALSO, I don't understand why I'm constantly getting in trouble for saying "G.I.R.L." when people are getting away with saying Nigger all the time. J/S once again if you're a girl you shouldn't get mad if someone calls you a boy....... Unless you're a boy.
THANKK YOU DENKI
mecc would freaking rage and so would orim for me using announce and im getting mad at the point that practically all the gms are on ( mecc,ciel,icy,orim) and they arent saying 1 thing to her , envy does her job in the proper way using LAannounce i havent seen envy using announce , ever , amy on the other hand would use announce like all the time and isnt being told anything , i agree on the part that G.I.R.L are given special treatment



































Newbie





Posts

: 13


Join date

: 2012-05-27



She's a dumb bitch who mutes you for stupid shit. Then when you logout and ask to speak to higher staff she jails you.

Why do I keep saying she.. He ***


I could actually careless about the abuse and shit but the fact that ppl can say nigger w/o punishment is stupid if I'm getting jailed/banned/muted for calling a "girl" a "guy"
_____________________________
Spoiler:
Spoiler:
.::Fluffy::. has been IPBanned by ..::~†Courtney†~::...::Fluffy::. has been IPBanned by ..::~†Courtney†~::...::Fluffy::. has been IPBanned by ..::~†Courtney†~::..
JUST BECAUSE HES SAYING WHATS ON HIS MIND
# IM DONE
Andd Denki has a right to his opinon just as everyone else,




























Newbie





Posts

: 13


Join date

: 2012-05-27



Saying GOd Nub to a noob mod is against rules..

Oh, wai---

noob isn't even a bad term. xD It means newbie.. She technically is a NEEWB mod.. But im not gonna sit here and rant/beg to be unbanned. :trolldad
Calls me a bitch then mutes me for calling him a guy. I don't get it.
Also, apparently to Kushina and Courtney it's alright for people to say "nigger" but it's not okay to quote an Admin if the admin posted in all caps.
I also have a log of the entire conversation up until when I was banned for "bitching" I guess. xD
is this even all that big a deal cuz to me u ppl just blowin shit out of proportion espically with this N word shit,dont act like u know its not gonna stop i mean come on
Member





Posts

: 424


Join date

: 2012-05-26


Location

: Tampa,Florida



I don't see what your post contributes to my problem..

As I've said 100 times, my problem is the fact that the 4 moderators being on at the time said nothing to the people making racial slurs, but the moment I made a sexist remark I get banned or muted. Yet nothing is said to the racists. They both fall under the category of disrespect towards player/staff so if I'm punished for something the others should be as well. Or don't punish anyone at all either works for me.


Similar topics
---
Permissions in this forum:
You
cannot
reply to topics in this forum