The Staff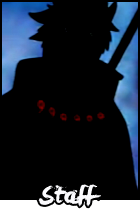 (Owner)
Zero
Mecc
IcyXDragon

(Co-Owner)


(Head Admin)
Envy

(Admins)
Mezashi

(Enforcer)


Ranks
Kages:




(Req: 1.5e+10 Stats; S-Rank Nin; 1e+13 HP)



Leaf (Hokage)
Cloud (Raikage)
Rock (Tsuchikage)
Sand (Kazekage)
Mist (Mizukage)
Rain (Amekage)
Sound (Otokage)
Blood (Ketsukage)


---



Org Leaders:




(Req: 2e+10 Stats; S-Rank Nin; 3e+13 HP)



Akatsuki (Akatsuki Leader)
7SM (7SM Leader)
Root (Root Leader)
Sound Org. (SO Leader)
Police Force (PF Leader)
Taka (Taka Leader)
12 Ninja Guardians(12NG)



So for those who don't know me I'm an old player / GM, for some of the older players you may remember me as the mizukage. Not played in several years but had the newsletter randomly emailed to me. Personally I though this game was dead / not live. But seeing there has been recent posts, is the game live, still on byond ? What the actual fuck is going on with NKV ?
Newbie





Posts

: 9


Join date

: 2012-09-06


Location

: London



Member





Posts

: 119


Join date

: 2013-12-02




_____________________________
Depression is my aesthetic.
Member





Posts

: 304


Join date

: 2013-04-07


Location

: Atlanta, GA





Similar topics
---
Permissions in this forum:
You
cannot
reply to topics in this forum