The Staff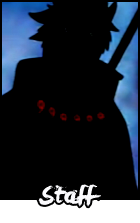 (Owner)
Zero
Mecc
IcyXDragon

(Co-Owner)


(Head Admin)
Envy

(Admins)
Mezashi

(Enforcer)


Ranks
Kages:




(Req: 1.5e+10 Stats; S-Rank Nin; 1e+13 HP)



Leaf (Hokage)
Cloud (Raikage)
Rock (Tsuchikage)
Sand (Kazekage)
Mist (Mizukage)
Rain (Amekage)
Sound (Otokage)
Blood (Ketsukage)


---



Org Leaders:




(Req: 2e+10 Stats; S-Rank Nin; 3e+13 HP)



Akatsuki (Akatsuki Leader)
7SM (7SM Leader)
Root (Root Leader)
Sound Org. (SO Leader)
Police Force (PF Leader)
Taka (Taka Leader)
12 Ninja Guardians(12NG)



Hatred disqualified me for spamming vs Reborn. When I didnt spam. I was using another technique in between. When I tried to explain to them that they were mistaken, instead of allowing me to show my proof they just disqualified me, and ignored me. Crush eventually teleported me out of the tourny, and OOCs muted. Basically I got admin fucked out of competing meanwhile im the highest level char on the game...???
Somethings fishy.
Heres pictures of my logs not using the jutsu in a row, but this probably gonna be ignored anyways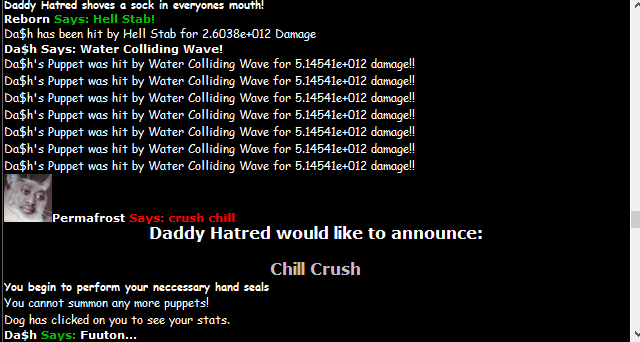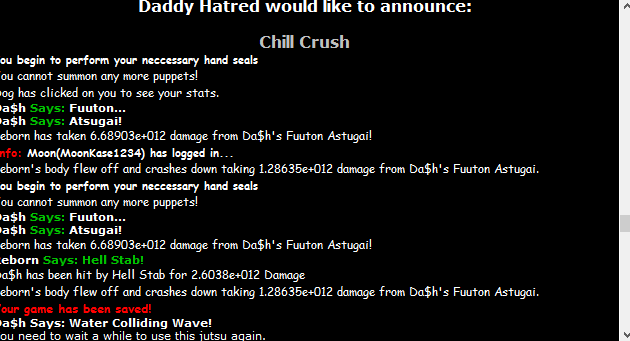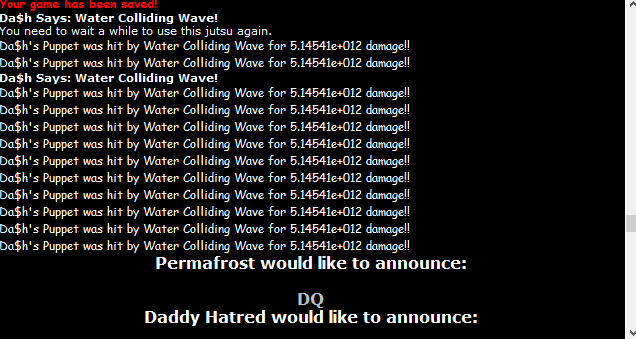 Member





Posts

: 165


Join date

: 2013-12-25



http://prnt.sc/dwz4fh

Don't throw dirt on my man Hatred.

_____________________________
I'd rather be a potato then a pumpkin.
Member





Posts

: 276


Join date

: 2013-04-07


Location

: Atlanta, GA



Member





Posts

: 105


Join date

: 2012-06-14



I like how you brought up highest level like its somehow relevant, as if we all don't know the scoreboard only updates when people click it.. lol
_____________________________
"A world without pain, loss, betrayal, hate, death, loneliness?... Impossible."
Member





Posts

: 313


Join date

: 2012-07-29


Location

: Calgary





Similar topics
---
Permissions in this forum:
You
cannot
reply to topics in this forum