The Staff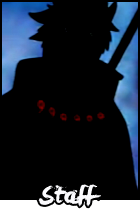 (Owner)
Zero
Mecc
IcyXDragon

(Co-Owner)


(Head Admin)
Envy

(Admins)
Mezashi

(Enforcer)


Ranks
Kages:




(Req: 1.5e+10 Stats; S-Rank Nin; 1e+13 HP)



Leaf (Hokage)
Cloud (Raikage)
Rock (Tsuchikage)
Sand (Kazekage)
Mist (Mizukage)
Rain (Amekage)
Sound (Otokage)
Blood (Ketsukage)


---



Org Leaders:




(Req: 2e+10 Stats; S-Rank Nin; 3e+13 HP)



Akatsuki (Akatsuki Leader)
7SM (7SM Leader)
Root (Root Leader)
Sound Org. (SO Leader)
Police Force (PF Leader)
Taka (Taka Leader)
12 Ninja Guardians(12NG)



[You must be registered and logged in to see this image.]
While Kenta and I were walking to steak and shake while at a con, this fool decides to give me his mixtape and decides to say "ayo that's ten bucks" and he has his Twitter and Instagram thinking like he dropping beats. stop by and flame him for me.

_____________________________
This is why we can't have nice things. Nobody wants to listen to a new idea or suggestion. They want the same thing as it's always been. You try to give em a new idea or tell em their concept is wrong and they grab the pitchforks and start a lynch mob.
Member





Posts

: 115


Join date

: 2014-01-25


Location

: New Richmond Ohio



_____________________________
[You must be registered and logged in to see this image.]
"
If it is for the sake of my pride, there is nothing I won't destroy."
Member





Posts

: 373


Join date

: 2013-08-23


Location

: Soul Society




---
Permissions in this forum:
You
cannot
reply to topics in this forum